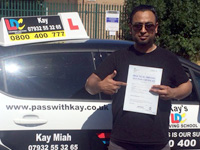 Imran Khan
Great 1st time pass
It's was a 13 year wait till I can sit for my driving test, that day had come, can't thank much to my instructor Kay for providing me with the lessons, couldn't ask for a better teacher, with his teaching skills and clear instructions I have passed my practical after only taking up 7 hours of lesson, kay gave me great advice and taught me driving tips not just for the test but also after I passed. Many thanks imz 😁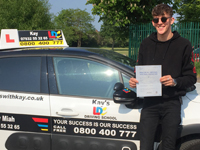 Sam Bramston
Passed 1st time
I felt comfortable meeting Kay and build confident from that time onwards, his a brilliant teacher, kept calm and taught me everything to pass first time! Thank you mate!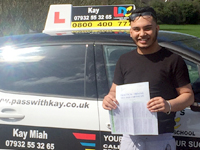 Ahmed Hussain
Passed with stunning results! 1 minor !! 😁
I'm a very first beginner which now a qualified driver. Can't be any happier and thank you less, I couldn't of done it without you. You were fun and friendly all throughout the time, you booked me a midway pass course which got me thinking if its enough to be test ready, but of course you had faith in my abilities, encouraged and supported me all the way. I will definitely recommend you to everyone. A 10/10 service! Yet again thank you so much and watch out! see you on the fast lane 😉... Shaz!