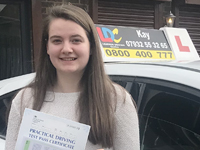 Naomi
1st time pass
Kay is an amazing instructor he is so patient and understanding. I learned from him very quickly and would recommend him to anyone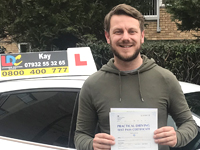 Daniel
1st attempt pass!
I passed my driving test thanks to the help of Kay from Bletchley. He is an amazing driving instructor he has a skill of picking the exact places that you could improve on to enhance your driving, he then can explain it to you in anyway to help you understand and is very patient and helps you until you crack it! Kay really encourages his students and makes driving enjoyable, he is so determined for everyone to reach their full potential. He is very organised and reliable for lessons! Thank you Kay!!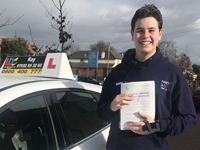 Ollie
1st time pass
Thanks to LDC I passed in 25 hours, first time too! I was practicing a bit with my parents before meeting kay, thanks to him for picking up bad habits I developed and made it easy for me to improved and move on every lesson.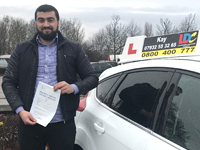 Faisal
Passed 1st time
Absolutely amazing instructor. Very patient, friendly and has a sense of humour, passed first time 1 minor. Excellent service thanks.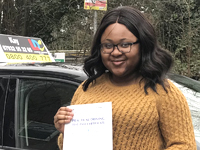 Patricia
Passed 1st time with Kay
I would recommend Kay as a driving instructor. He is patient, calm and knows how to put people at ease even in stressful situations, which learning to drive can be. I was a very nervous driver and Kay was incredibly understanding. I learnt to drive at a pace that suited me and I passed first time. I am now a confident driver and it's thanks to Kay's teaching.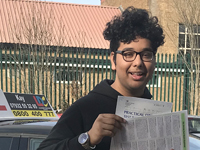 Sahil
A licence for life
I really enjoyed my time learning to drive thanks to Kay who made the whole experience pleasant and easy, due to his good teaching and listening skills. He helped me meet my goals on-time and gave clear instruction that helped me to progress quickly and get up and running in no time. Good company too! I highly recommend both Kay and LDC driving school to anyone learning to drive, they will get you in the right direction immediately..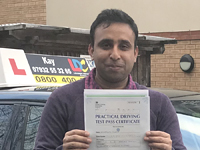 Zuber
Passed 1st time
I'm a student in Milton Keynes university hospital, been driving with international licence till I found Kay who gave me all the tips and reference points to pass first time. Just 1 minor fault out of 15. Will highly recommend to others thank you.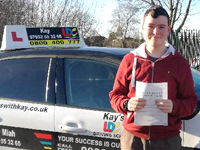 James
Pass driver.
I'm glad to have passed with only 2 minors, thanks to my instructor, excellent teaching, clear instructions, i would highly recommend to pass with Kay. Also i had enjoyed on my lessons.. James.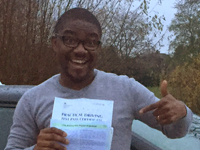 Larry
Kay is who you need!
I am so happy I found Kay as my instructor, he is a very nice guy and a humble person. He made me look forward to each lesson. He kept me calm and focused on my targets. Thank you and definitely will be recommending to others.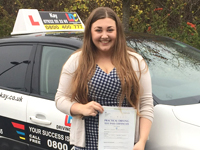 Joanna
Excellent experience.
I continued my driving experience after a few years which I am now very glad that I continued. Especially finding Kay as my instructor who made me feel comfortable and made it a enjoyable experience. I will recommend Kay to others.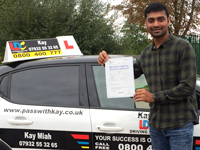 Kuladeep
A full driving licence holder
Throughout my time of driving experience Kay has been very supportive and encouraging, he made me feel relaxed and built my confidence each lesson. He understood the targets I needed to aim for and achieve at the end of my lessons. Thank you Kay for making it happen for me I will defo recommend.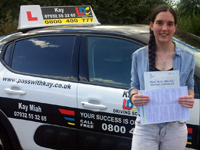 Chloe Smith
Passed with satisfaction
I'm glad I found Kay. He made me feel at ease and gave me the confidence I needed for going on the road. He is a calm, professional and friendly guy, will definitely recommend, thank you for your expertise.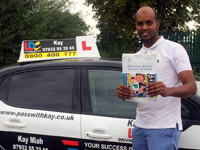 Hassan
Passed in no time
A big thanks to Kay for making it easy for me to pass. He taught me the importance of safe driving and has prepared me well for life on the road. A definite recommandation for anyone.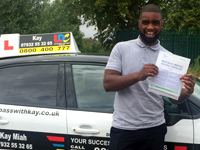 TJ
Passed with flying colours
Kay is a great instructor, he is very friendly, patient and informative. I recommend Kay to anyone. Thanks again.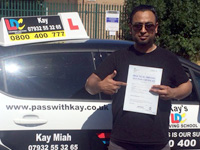 Imran Khan
Great 1st time pass
It's was a 13 year wait till I can sit for my driving test, that day had come, can't thank much to my instructor Kay for providing me with the lessons, couldn't ask for a better teacher, with his teaching skills and clear instructions I have passed my practical after only taking up 7 hours of lesson, kay gave me great advice and taught me driving tips not just for the test but also after I passed. Many thanks imz 😁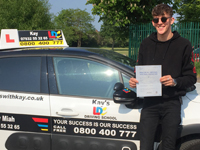 Sam Bramston
Passed 1st time
I felt comfortable meeting Kay and build confident from that time onwards, his a brilliant teacher, kept calm and taught me everything to pass first time! Thank you mate!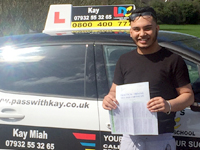 Ahmed Hussain
Passed with stunning results! 1 minor !! 😁
I'm a very first beginner which now a qualified driver. Can't be any happier and thank you less, I couldn't of done it without you. You were fun and friendly all throughout the time, you booked me a midway pass course which got me thinking if its enough to be test ready, but of course you had faith in my abilities, encouraged and supported me all the way. I will definitely recommend you to everyone. A 10/10 service! Yet again thank you so much and watch out! see you on the fast lane 😉... Shaz!